Events
What is FAFSA Fest?
FAFSA Fest is an annual series of free events that brings local volunteers to locations around the city to help students and families complete their FAFSA (Free Application for Federal Student Aid) online, answer financial aid questions, and provide individual counseling for understanding college costs.
Food and refreshments will be provided, and there is no need to pre-register. Volunteers include financial aid counselors from local colleges.
All students are welcome! Assistance for special circumstances will be available.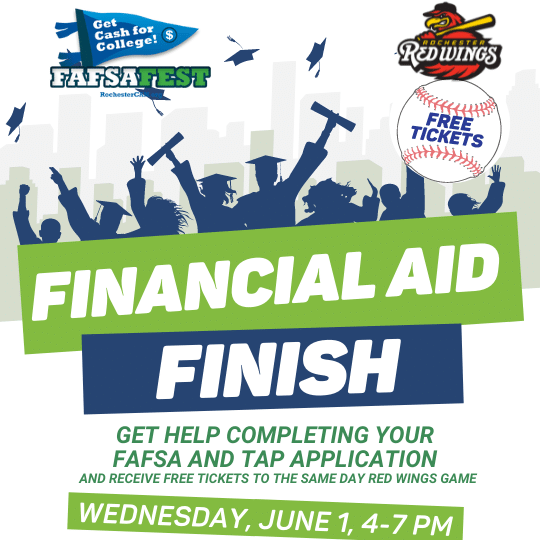 FAFSA Fest at MCC - Wednesday, June 1
4 PM - 7 PM
321 State St, Rochester, NY 14608
Click here to see parking & entrance
Food provided. Free Red Wings tickets (first come, first serve).
WHAT TO BRING TO FAFSA FEST
College Bound? Please bring your...
List of schools you have or will apply to 

Social Security Number -OR- Alien Registration Number (if not a US citizen)

If you worked in 2020, your W-2 or if filed, your Federal and New York State tax returns
If dependent, please bring your Parent(s)*** along with their...
Social security number(s) -OR- Alien registration number (if not a US citizen)

Date(s) of birth

Date of marriage or divorce 

Driver's license number or state Non-driver's ID number

Email and phone number

2020 Federal and New York State tax returns, if required to file

2020 W-2 forms and a list of all other income received in 2020 such as:

Child support

Unemployment compensation

Disability benefits 
Please note: Families are not required to report Social Security Income or public assistance on the FAFSA.
***Need to know who counts as your parent for FAFSA? Please use this infographic below and visit the StudentAid.gov site for more details.
If you are considered a dependent student for FAFSA® purposes, you will need to provide information about your legal parent(s) on the application. A legal parent is your biological or adoptive parent, or your legal parent as determined by the state (for example, if the parent is listed on your birth certificate). If you have a stepparent currently married to your legal parent, generally, you must also provide information about him or her. Unless otherwise noted, "parent" means your legal (biological and/or adoptive) parent or your stepparent.