To sign up for a virtual College Help Desk appointment, click the button below to go to our scheduling system.
APPOINTMENTS ARE CURRENTLY ON HOLD UNTIL FURTHER NOTICE.
PLEASE ASK YOUR SCHOOL COUNSELOR FOR ASSISTANCE.
Make an Appointment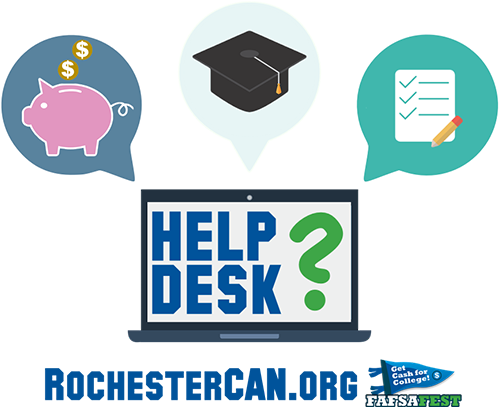 College Help Desk:
You've got questions, we've got answers!
The College Help Desk is open Monday–Friday from 9–5.
Our help desk assistants can help with:
College essays
Searching for scholarships
Financial aid forms (FAFSA and TAP)
Completing college applications and the common app
Exploring colleges and majors
Understanding college costs
Decoding your financial aid offer letter
Need Extra Help?
Just text your name and what you need help with to 585-571-RCAN!